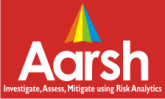 Aarsh Management
To provide dependable Enterprise Risk Management products and services with competitive price-performance ratio to our customers. "Bringing the best to everyone we touch" through People, Products, and Ideas. These three pillars will remain the foundation upon which we continue to build our success.
We are committed to be a responsible corporate citizen within the markets we operate with the enduring values of commitment to Sustainability, Innovation and Excellence along with Value Creation, Integrity, Accountability, and Flexibility.
Aarsh Management Solutions Pvt. Ltd. – a reliable partner in Enterprise Risk Management (ERM) Analytics Solutions has been in the market since 2009 providing its risk management products and professional services to various organizations globally.
Aarsh caters to the verticals of Banking, Health Care, Insurance, Telecom, Energy and Government.
Additional Info
Company Website: